In the highly competitive sector of spirits and liqueurs, Bacardi has become a titan. It has moved beyond its original strength of making rum to take over markets with a wide range of premium products, including gin, scotch, vodka, and more.
The well-known brand from Puerto Rico isn't simply well-known in the Caribbean. It has beaten out more than 200 companies on the global market, making a name for itself with its wide range of products and high-quality workmanship. In this buyer's guide, we get to the core of what Bacardi has to offer, taking the mystery out of the brand to help both newcomers and old hands find their way around the world of Bacardi.
Bacardi's Illustrious Legacy
At the inception of Bacardi's production lies the sugarcane—a fundamental ingredient harvested from various locations across the globe to maintain an impeccable standard of quality. Once harvested, the sugarcane molasses undergoes fermentation—a meticulous process that spans over 30 hours, leveraging Bacardi's patented yeast, "La Levadura Bacardi."
What emerges from this prolonged fermentation in sealed tanks is a distillate rich with the essence of bananas, molasses, and a symphony of spices such as nutmeg and white pepper. The concoction is then aged in charred oak barrels, a step that instills the liquor with a signature smoky note and develops an aroma embodying vanilla and caramel nuances.
Understanding Bacardi's Offerings
Guided by expertise and tradition, each variant of Bacardi rum traverses through a distinct aging timeline, anywhere from one to ten years. This process results in a portfolio that celebrates diversity with an array of styles including transparent, pale dark, black, and navy variations.
However, the crown jewels in Bacardi's inventory are undoubtedly the Reserva Ocho, Gran Reserva Diez, and Gran Reserva Limitada—rich and exquisite, best-savored neat to appreciate their intricate flavor profiles.
Bacardi's Unique Selling Propositions
Bacardi's rise to prominence in the liquor industry can be attributed to its unwavering dedication to quality, reflected distinctly in the refined texture of its products which have won the favor of rum enthusiasts globally. This quality is significantly influenced by Bacardi's proprietary yeast, which is integral in achieving a superior mouth feel that stands out in the crowded market.
While the unique yeast formulation is a significant draw, it is the rich history of the brand that further augments its standing in the market. The tradition and expertise imbued in every bottle narrate a story of sustained excellence over the years. Illustrating the brand's pervasive influence, consider this factual detail:
Daily, over six million Original Bacardi Cuba Libre cocktails are enjoyed worldwide, serving not just a beverage, but an experience that fosters joy and unforgettable moments.
These numbers not only show how popular Bacardi is across the world but also how integral the brand is to parties and festivities everywhere. Remember that Bacardi isn't just bragging when they say their product has a pleasant mouthfeel; they achieve this by using a special yeast in the distillation process.
This combination of quality and rich brand history positions Bacardi as a first choice for many consumers, evident from a large number of Bacardi-based cocktails served daily around the world.
Bacardi's Value Proposition With Price Points
As we venture into Bacardi's economic landscape, it's comforting to note the competitive pricing strategy the brand employs. While offering a rich tapestry of flavors and textures, Bacardi maintains a price point that is more accessible compared to rivals such as Malibu and Sailor Jerry.
To further elucidate Bacardi's value proposition, here is a detailed breakdown of their offerings below. This showcases the versatile range of flavors with their different sizes and proof levels that are available to you, making it easier for people like you to find a variant that suits both their taste preferences and budget.
Type
Size
Price (US $)
Proof
Bacardi Superior
750 ml
11.99 – 12.99
80
1 L
16.99 – 19.99
80
1.75 L
19.99 – 24.99
80
Bacardi Spiced
750 ml
11.00
80
Bacardi Black
750 ml
11.99 – 12.99
80
Bacardi Gold
750 ml
11.99 – 12.99
80
Bacardi Banana
750 ml
11.99 – 14.99
70
Bacardi Coconut
750 ml
11.99 – 14.99
70
Bacardi Limon
750 ml
11.99 – 14.99
70
Bacardi Pineapple
750 ml
11.99 – 14.99
70
Bacardi Raspberry
750 ml
11.99 – 14.99
70
Bacardi Anejo Cuatro
750 ml
21.00
80
Bacardi Rum Solera
750 ml
21.00
80
Bacardi Anejo
750 ml
22.00
80
Bacardi Maestro De Ron
750 ml
22.99 – 24.99
80
Bacardi 8 Anos
750 ml
22.99 – 29.99
80
Bacardi 151
750 ml
23.99 – 25.99
151
Bacardi Reserva Ocho
750 ml
29.00
80
Bacardi Gran Reserva Diez
750 ml
40.00
80
Bacardi Gran Reserva Limitada
750 ml
109.00
80
Quality doesn't take a back seat here, even as you find offerings around the $15 mark—a rate that is indeed hard to beat considering the caliber of the rum. However, as with any premium product, there exists a direct correlation between age and price, an example of the high level of workmanship and time that an aged rum can offer.
Safe and Inclusive: Bacardi's Commitment to a Diverse Consumer Base
In a world where consumer preferences are evolving, Bacardi stands tall, ensuring inclusivity with a vegan-friendly product range. By abstaining from using any animal by-products in their offerings, they present a choice without compromise for vegan and vegetarian consumers.
The brand also exhibits a thoughtful approach towards individuals with dietary restrictions, offering gluten-free options except for Bacardi Silver, showcasing a spirit that is both exquisite and inclusive.
Cocktail Creations: Unleashing Bacardi's Versatility in the Mix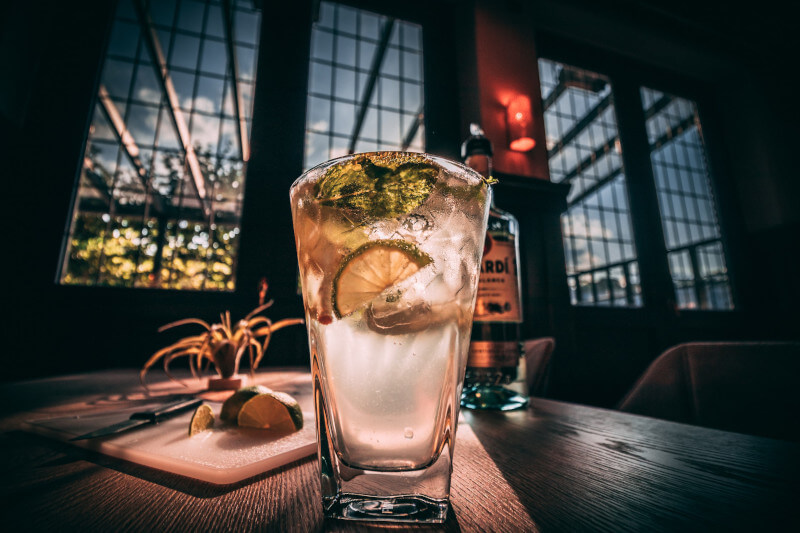 Stepping away from tradition, Bacardi encourages creativity, offering a landscape ripe for experimentation. From the effervescent Cola and Bacardi blend to the unconventional Crusher Cookies with Bacardi, each cocktail recipe brings forth an opportunity to build something unique, something spectacular.
A personal favorite is the Pink and Beat-Boxing—a mélange of Bacardi Raspberry Rum with soda and tonic water, delivering a drink that is refreshing and vibrant with a pinch of salt that ties all the flavors seamlessly.
But the versatility doesn't end here. Bacardi welcomes you to try the Classic Mojito, a staple that combines the zesty freshness of lime with the cooling sensation of mint, orchestrated with Bacardi Carta Blanca Rum to create a drink that is nothing short of poetry in a glass.
Crafting Your Own Bacardi Experience: Tips and Tricks
While Bacardi commands a rich tapestry of ready recipes to choose from, it opens the doors for personalized experiences, inviting you to be the artist behind your cocktail canvas. Consider the following suggestions as a springboard for your culinary adventures:
Respecting the Neat: While mixing is encouraged, remember the golden rule—premium, aged rums are best savored neat or with a splash of water to enhance their nuanced flavors.
Cool it Right: When you're crafting a cocktail, always use good quality ice to prevent dilution and maintain the rich flavors.
Garnish Generously: Don't shy away from garnishes. Fresh herbs, citrus slices, or even a dash of spices can elevate your cocktail to the next level.