While Montreal has long been synonymous with lively festivities, its elevation to the pinnacle of Canada's cocktail culture is a relatively recent ascent. Historically, the city has been a melting pot of cultures, and its bars, pubs, and speakeasies have reflected this eclectic mix. But it's in the last couple of decades, and more emphatically post-pandemic, that Montreal has truly stamped its mark as a cocktail haven.
Back in the day, Montreal's nightlife was more restrained. Its watering holes were standard pubs offering the regular fare. While wine and beer have long had their places in the hearts of Montrealers, craft cocktails were not the city's forte. However, as global travel and exposure increased, Montreal's cosmopolitan nature began absorbing and reflecting global trends. The post-pandemic period, in particular, witnessed a surge in innovative mixology. With people eager for new experiences after prolonged lockdowns, Montreal's bars responded with creativity in a glass.
Take, for example, the statement by bar owner Kevin Demers regarding the craft cocktail scene's youthfulness. This emerging enthusiasm of mixologists to create a signature for Montreal on the global cocktail map is evidence of this modern transformation. While the city was always bustling with activity, the concerted effort to be known for unique blends and sophisticated concoctions showcased the industry's recent evolution.
With a thriving culinary scene and festivals like Poutinefest making headlines, it's no surprise that the city has equally enticing offerings in the world of spirits. Montreal's cocktail culture is burgeoning, and if you haven't explored it yet, here's why you should.
1. Marcus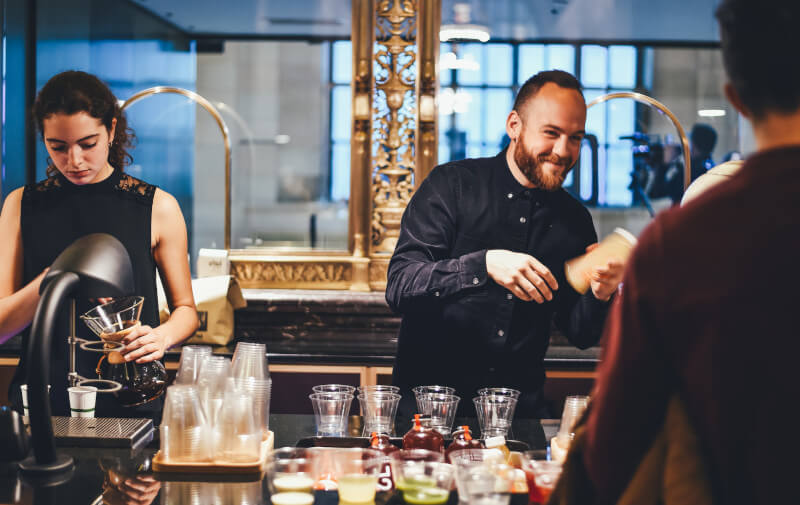 This bar in the foyer of the Four Seasons Hotel is a popular meeting place for the hotel's affluent clientele. The bar's most impressive feature is a wall constructed solely of hand-cut crystals brought in from Australia; it was designed by Montrealer Zébulon Perron and features velvet banquettes, handmade wallpaper influenced by Mount Royal, reflective walls, and more. Start with the Golden Square Mile, a twist on the Vieux Carré served above a shimmering gold ice cube, or the Old Gods, made with Glenmorangie, verjus, and honey. Famous chef Marcus Samuelsson is in charge of the kitchen here, so you know you're getting high-quality seafood dishes including sashimi, crudo, tartare, and entire fish.
Price Range: Given its prime location and celebrity chef-driven menu, you can expect drinks to be on the higher side, likely ranging from $ 18 to $30, with seafood dishes being premium-priced.
Target Audience: Perfect for those looking for an upscale experience. It's particularly suitable for business meetings, romantic dates, or special occasions.
Opening Hours: Typically, hotel bars open early for the convenience of guests, so around 11 am to late, often until 1 am or 2 am.
Live Events: Marcus often hosts exclusive events, wine-tasting nights, or guest celebrity chef evenings. Specific events would need to be checked with the venue directly.
2. Opulence Meets Cocktails At The La Voûte Group
Nestled in the historic Royal Bank building in Old Montreal, La Voûte is where architectural grandeur meets contemporary chic. The interiors, with brass fixtures and velvet touches, capture the city's rich history while resonating with modernity. After midnight, this place transforms into a hive of activity, with top-notch performers, specialty cocktails, wines, and sakés ensuring a memorable night.
Price Range: Premium. Expect cocktails to range from $16-$24.
Target Audience: Young professionals and those looking for a chic nightlife experience in a historical setting.
Opening Hours: 10 pm-3 am (Fridays and Saturdays).
Live Events: Regular DJ sets and dance nights, with occasional special-themed evenings.
3. El Pequeño Bar Proves That Size Doesn't Matter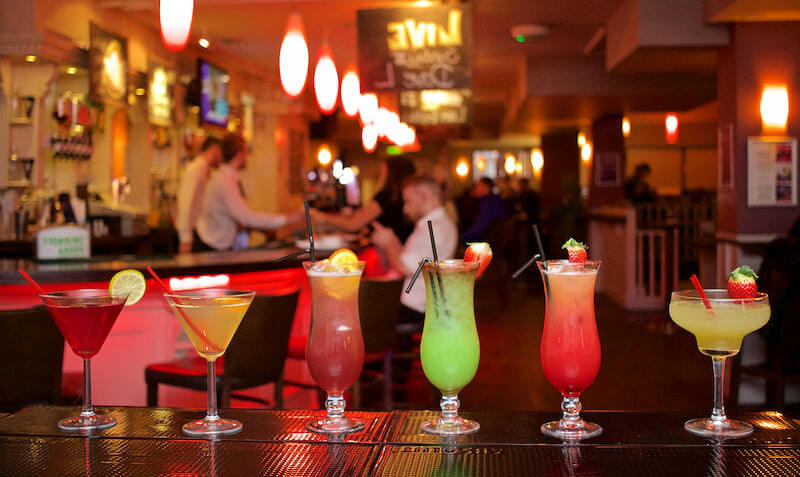 Imagine stepping into a space that stretches just 160 square feet but promises a cosmic burst of flavors. El Pequeo Bar, which translates to 'the small bar,' defies its size with its immense offerings. The tropical theme, accentuated by Pineapple Daiquiris and Mojitos, promises to transport you to warmer climates even on the coldest Montreal nights. And if you're looking for a larger setting with a Prohibition-era vibe, the adjacent Coldroom offers a plethora of Canadian whisky and bourbon choices.
Price Range: Mid-range with cocktails typically priced between $12-$18.
Target Audience: Perfect for those who love intimate settings and tropical-themed cocktails. Ideal for couples or small groups.
Opening Hours: 5 pm-2 am (Tuesdays to Saturdays).
Live Events: Occasionally hosts live Latin music nights.
4. Pub & Parlour of Parliament Celebrates the Victorian Era
What's more intriguing than sipping on a cocktail that has a historical tale? At the Pub & Parlour of Parliament, every drink tells a story. A nod to the past can be seen in the interiors of many bars, like the Pub & Parlour of Parliament, which draws inspiration from Canada's Victorian era.
Yet, their drink menus are anything but archaic, demonstrating Montreal's keenness to merge history with modern flair. For instance, the Hook, Ladder & Hose pays homage to Montreal's fire chief Alfred Perry, while The Young Queen nods to Queen Victoria's extravagant culinary preferences. This pub's menu is also a tribute to British cuisine, ensuring that every bite complements your sip.
This intriguing blend of historical reverence with cutting-edge mixology is what makes Montreal's cocktail scene so captivating. It isn't just about the drink in your hand, but the story it tells, the ambiance that accompanies it, and the city's spirit that it imbibes.
Price Range: Mid to premium range. Cocktails are priced from $14-$22.
Target Audience: History enthusiasts and those who prefer an old-world charm setting. Suitable for groups and family gatherings.
Opening Hours: 4 pm-2 am (Mondays to Saturdays), 4 pm-12 am (Sundays).
Live Events: Often hosts story-telling nights and history-themed quizzes.
5. Tropical Vibes in Pointe-Saint-Charles At the Milky Way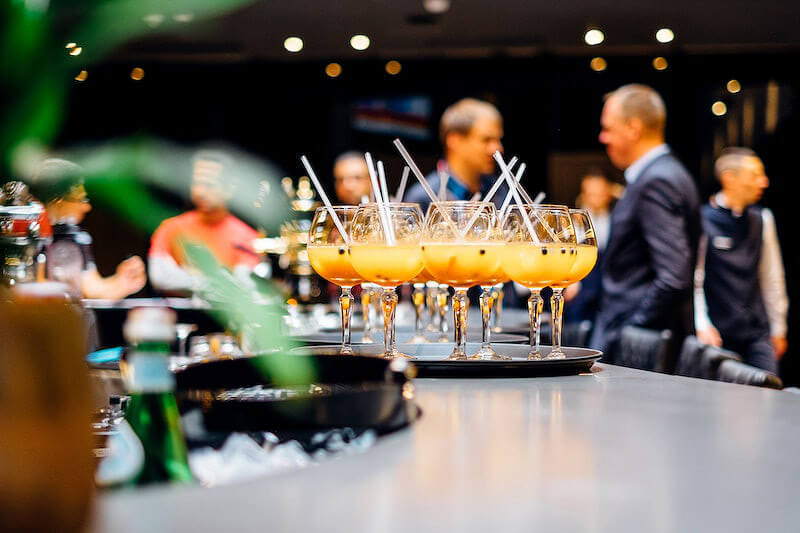 If a cocktail bar could be a time machine, The Milky Way, with its neon ambiance, would undoubtedly take you to the eclectic 80s. The varied music selection sets the tone, while drinks like the Bon pour le Moral and Dishbé Dios offers a delightful play on classic concoctions. And if you're feeling peckish, their pizzas, adorned with gourmet ingredients, are a must-try.
Price Range: Moderate with cocktails typically between $10-$16.
Target Audience: Ideal for the 80s nostalgia lovers and those who enjoy an eclectic and vibrant atmosphere.
Opening Hours: 6 pm-1 am (Thursdays to Sundays).
Live Events: 80s and 90s-themed music nights are frequent.
Montreal is more than just a city; it's an experience. Whether you're a history buff, a gourmet, or someone seeking new flavors, this city has something in store for everyone. Its cocktail culture, still in its growth phase, offers both classic and innovative choices, ensuring that every visit to these bars is a unique one. So, the next time you find yourself wandering the streets of Montreal, remember that a world of flavors awaits you in its bars.