We've all been there—wandering the festival grounds, our taste buds yearning for a rich pour of our favorite spirit, only to be met with a lackluster bar scene. The lines are long, the prices high, and the drinks? Well, let's just say they leave a lot to be desired. But imagine if you could bring along your cherished whisky and enjoy it in style. Enter the world of quirky hip flasks, your ultimate festival companion.
 

The Glastonbury Privilege

Unlike most gatherings of music lovers, the iconic Glastonbury festival is an exception to the typical "no drinks allowed" rule. Come 26 June, almost 175,000 attendees can enjoy the perk of bringing in a 'reasonable' amount of alcohol. The catch? No glass allowed. So how do you enjoy that 18-year-old single malt amidst the electric festival atmosphere? With a hip flask, of course! But not just any flask, one that brings a touch of fun and surprise to the party.
 

1. The Rain-Free "BoozeBrella"

Ever heard of an umbrella you can drink from? The BoozeBrella by SmuggleMug is your go-to. This deceptive flask is concealed as an innocuous-looking folded micro-umbrella, ensuring zero spillage with its foam pressure-sensitive safety seals. As Scott Gallacher, the SmuggleMug creator puts it, this flask gives you the feel of a standard umbrella sans the sheltering benefits.
Price: $19.95
Find it at Amazon, the one-stop-shop, that offers this quirky item. Their Prime delivery ensures you'll get it in time, even if you're a last-minute packer.
 

2. A Closer Look with "Binocktails"

Why bring one drink when you can have two? The Binoculars Double Flask allows festival aficionados to carry two different drinks, perfect for those impromptu tastings or cocktails. While the rubber grips and neck strap give the illusion of genuine binoculars, don't expect to get a clearer view of the stage with these.
Price: $24.99
Where to Shop: Direct from the Binocktails official website. They often have sales, so keep an eye out for a discount.
 

3. Freshen Up with the "Bev-Can Secret"

This isn't your everyday body spray. The Bev-Can Secret Body Spray Flask can stash 235ml of your desired drink. Designed to resemble a real body spray can, down to a near replica of the Lynx logo, it ensures onlookers are none the wiser. Just be ready for some amused stares when your friends see you sipping from your 'deodorant'.
Price: $16.99
Online Oasis: Etsy boasts a plethora of unique items, and this flask is no exception. Handcrafted by independent artisans, your purchase supports small businesses.
 

4. "The Good Book"

Who would've thought that salvation could come in the form of whisky? The Flask In A Book offers just that—a 115ml flask nestled inside a Bible-style book. The design might be a playful nod, but the real treat lies inside, waiting to be shared.
Price: $18.50
Click & Collect: ThinkGeek caters to the quirkier side of shopping. Their array of fun, often geek-themed items includes this spiritual sipper.
 

5. Stay Styled with the "Bev-Brush Paddle"

Is hair out of place? No worries. The Bev-Brush Paddle Brush Flask lets you brush and booze simultaneously. Behind its soft bristles lies a 170.5ml flask, ready to quench your thirst. And once it's emptied, the brush is still handy for keeping your hair festival-ready.
Price: $29.95
Digital Dive: Head to UncommonGoods. This website is a treasure trove of unusual items, perfect for those who appreciate the unconventional.
Your Guide to Maximizing the Festival Flask Fun
So, you've got your eyes on one of those brilliantly designed hip flasks, and you're all set to make it a festival essential. But how do you make the most of it? Here's a guide tailored just for you.
 

1. Choose Wisely
Purpose over Appearance: While the Bev-Brush Paddle Brush Flask might be a conversation starter, it holds less than some of the other options. Prioritize your needs. If you want a more extended sipping experience, maybe opt for the Binocktails Double Flask.
 

2. Pre-Festival Prep
Clean Before You Conceal: New flasks, especially those with metallic interiors, can sometimes have a residual taste. Give yours a thorough rinse before use. Your taste buds will thank you.
 

3. Master the Art of Discretion
Act Naturally: When you're sipping from your Bev-Can Secret Body Spray Flask, make it seem like the most normal thing in the world. If you act as if you're hiding something, you'll draw more attention.
 

4. Sharing is Caring
Bring a Backup: If you're planning to share your hidden stash with friends, it might run out faster than you think. Consider having a backup flask or a larger one like the Binocktails.
 

5. Play Safe

– Know the Rules: Every festival has its own set of regulations. Even though Glastonbury is lax, others might not be. Familiarize yourself with the guidelines to avoid any hiccups.
FAQs for the Flask Fanatic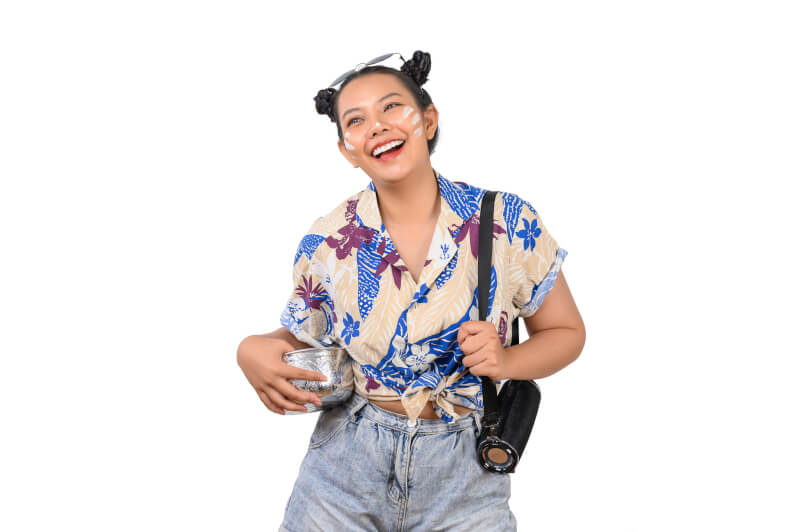 Q: How do I clean my quirky flask?
A: Warm soapy water and a good rinse usually do the trick. For metal interiors, you can swish around a mix of equal parts white vinegar and warm water.
Q: Will the Bev-Can Secret Body Spray Flask trigger metal detectors?
A: It has a mostly aluminum build, so it's less likely. But always be aware of the security measures at your festival.
Q: What if someone questions my "umbrella" or "body spray"?
A: Confidence is key. Have a light-hearted response ready, and remember, these flasks are as much about fun as they are about function.
As you set out with your stealthy sipper, these steps and tips will ensure you make the most of the experience. And now, a reminder: wherever you're enjoying your concealed concoction, always do so responsibly.
A Flask for Every Festival-Goer
Each flask brings its flavor of fun to the festival experience. Be it the body spray's playful deception or the dual-action binoculars, they all offer a unique twist to enjoying your favorite drink amidst the live music and vibrant energy. So, whether you're setting up camp at Glastonbury or another music fest this season, these flasks ensure that your spirits—both the mood and the drink—stay high!
Danielle's Bio:
Introducing Danielle, a versatile connoisseur of life's finest pleasures. Her storytelling prowess graces the pages of DailyLive, DriveOut, FLP, and FurKidz.